Over the past couple of years, Egypt has established itself as a resilient country, being among the very few markets to have recorded economic growth in 2020. This was mainly driven by the various structural and economic reforms launched by the government to combat the impact of the novel COVID'19 outbreak – which has led to further growth of 5.6% in the county's GDP in 2021.
While this generally reflected positively on the real estate sector in Egypt, it is yet to fully recover from the prolonged effects of the global pandemic and the uncertainties it had brought to the overall economy. While local demand was the most active in recent years, international demand witnessed signs of recovery at the start of this year as market conditions began to improve globally, resulting in higher activity and inquiries.
The supply of office space has increased sustainably in the past 5 years, reaching 1.6 million sq m in 2021, which is a 35% increase, when compared to 1.2 million sq m in 2017. That said, while the first quarter of 2022 did not witness any office completions, we expect an additional 260,000 sq m of GLA to be delivered throughout the year, assuming no further construction delays.
In terms of office space, the Egyptian market has witnessed a shift in the type of offerings that have been introduced and delivered in the last few years. In line with global trends, tenant requirements have started revolving around building quality, technology, sustainability, health, and wellness, as well as location and transportation services. As a result, the majority of new developments that are entering the market with such standards are situated in East Cairo, where road infrastructure is well developed and connected. Moreover, we expect most demand to be directed towards the east of the city, given its proximity to the New Administrative Capital (NAC), which will be considered as a major business hub once completed.
Surrounding amenities and facilities have also become of high priority for many prospective tenants in selecting their office space. Consequently, more mixed-use office parks and grade A buildings with retail components, F &B segments, as well as wellness centers are being launched and delivered. Cairo Festival City (CFC) in New Cairo is an example of a prime mixed-use development, with modern, high quality, grade A administrative offices that are easily accessible to retail, F&B, and recreation facilities.
ITIDA Village Architecture, Source: ITIDA
Another global trend that was observed amid and post-pandemic was the change in occupier requirements for office space. Companies around the world opted to downsize, relocating to smaller, fitted-out units, to consolidate their operational costs. More international corporates also started relying on outsourcing and offshoring services to reduce their operating expenses while maintaining the quality of their work.
With that said, Egypt was well-positioned to be the country of choice for many companies looking to outsource services given the many advantages it offers. Egypt's strategic location, between Europe, Asia, and the US, give it the upper hand in serving the world within similar time zones – which is preferable by most firms. Moreover, Egypt's population, which currently stands at over 104 million, is fairly young, multilingual, and a talented working population with over 45% lying between 15-44 age groups. This, coupled with the fact that the labor cost in Egypt is relatively lower than other countries, makes it an ideal destination for outsourcing purposes.
Therefore, over the past couple of years, we saw a growing demand for call centers and ICT services in Egypt doing work for overseas companies such as Europe. The industrial and logistics sectors are also witnessing higher activity and demand, with more global companies choosing to establish manufacturing plants in Egypt for trading purposes.
Looking forward, we expect the business environment to continue to surge in Egypt as the world continues to open up and recover from the global pandemic. Meanwhile, the government and the private sector continue to work on enhancing their office offerings and their talent pool to position and promote Egypt as a global hub for outsourcing services.
---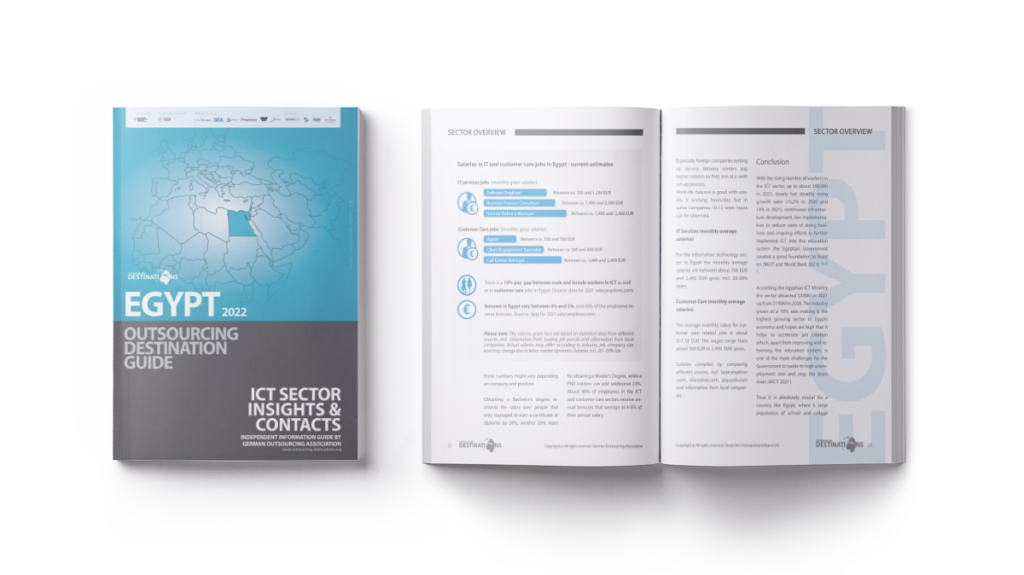 ---
About the editor: Zenah Al Saraeji is a research analyst at Jones Lang LaSalle (JLL) MENA since 2019. With over 3 years of professional experience, she does extensive industry and economic research, market data, and macroeconomic analysis for various submarkets throughout the MENA region.
Moreover, she is mainly responsible for creating the JLL Quarterly Market Overviews for Cairo while also assisting in other market updates such as the UAE and Saudi Arabia. Aside from delivering various market research and analysis projects within the MENA region, including detailed market intelligence in support of key client engagements, Zenah has also been involved in creating various thought leadership publications in MENA.