The world is constantly changing – technological advancements and digital transformation are playing a dominant role in the business strategies of companies; Europe is facing an ageing population with a declining supply in digital skills. In Africa, a young talented workforce is emerging, eager to work but facing limited job opportunities. This leads to new, unprecedented chances for cross-continental collaboration – one that AmaliTech has decided to take.

AmaliTech, founded in 2019, is a social business that provides employment pathways to young graduates in sub-Saharan Africa. To ensure a successful transition from university to office, AmaliTech provides necessary ICT/digital training, tailored towards the needs of international clients.

Amalitech Training Academy – from recruitment to training

AmaliTech has perfected its recruitment process over time, identifying the most effective sourcing channels in Ghana – from social media campaigns, WhatsApp broadcastings and radio to university visits and webinars. The recruitment activities are tailored to AmaliTech's target group: young graduates from the ICT field, who are interested in pursuing a career in the digital space.

Hereby, a special focus is placed on the successful recruitment of women and persons with disabilities, as AmaliTech strives for equal employment opportunities. Eligible applicants are required to successfully pass the rigorous selection process, including tests and interviews, before receiving an offer to join the AmaliTech Training Academy in Takoradi, Ghana for free ICT/digital training.

Trainees are committed to a sixmonth training programme that is continuously adapted to client expectations in terms of skills and know-how. The programme allows for trainees to establish foundational digital skills within the first two months, followed by IT-related specialisations including Software Development & Engineering, Media and Design and Machine Learning & Data Analytics.

To ensure flawless intercultural communication with future clients, trainees are provided with continuous soft skill training to further their understanding of working on a professional global level.
Amalitech service centre – from training to employment

Successful graduates of the AmaliTech Training Academy are given the opportunity to work at AmaliTech's Service Centre in Takoradi, Ghana. Employment at AmaliTech means working closely with international clients on projects that are acquired through AmaliTech Services, a subsidiary of AmaliTech providing the link between European companies and the Service Centre. Service Centre tech experts are divided into skill-based project teams leveraging leading-edge technologies and platforms for successful project implementations.

By offering cost-efficient and adaptable solutions to clients, international companies are realizing the potential of outsourcing digital projects to Ghana. The social aspect of AmaliTech sets the company apart from other outsourcing companies – surplus, generated through client projects, is reinvested in the AmaliTech Training Academy to enable free training programmes, and local community support – therefore creating a sustainable business model that serves to create lasting value across the country.
Amalitech projects – from client projects to sustainable social impact
AmaliTech is committed to supporting the local community by encouraging women, persons with disabilities, and children to join the tech space, as it will exponentially gain importance in the years to come.

In collaboration with SOS Ghana, AmaliTech is implementing a programme that teaches children of the SOS Village schools, between the ages of 9 and 14, how to code – Coding for Kids. Trainers from the AmaliTech Training Academy hereby train SOS teachers to successfully transfer relevant digital knowledge and motivate children to grow passionate about technology. By bringing technology closer to young children, AmaliTech hopes to contribute to developing mindsets that are aware of the relevance and importance of digital skills.

AmaliTech is committed to creating an inclusive environment by breaking down barriers that are hindering persons with disabilities to join, be trained, and work at AmaliTech. This starts with providing an accessible website that makes it easy for persons with disabilities to navigate through the pages and find relevant information, continuing with professionally trained recruiters and adapted interview processes. By planning the provision of assistive technologies and appropriate housing opportunities for persons with disabilities, AmaliTech hopes to further establish an inclusive environment and create equal opportunities for all.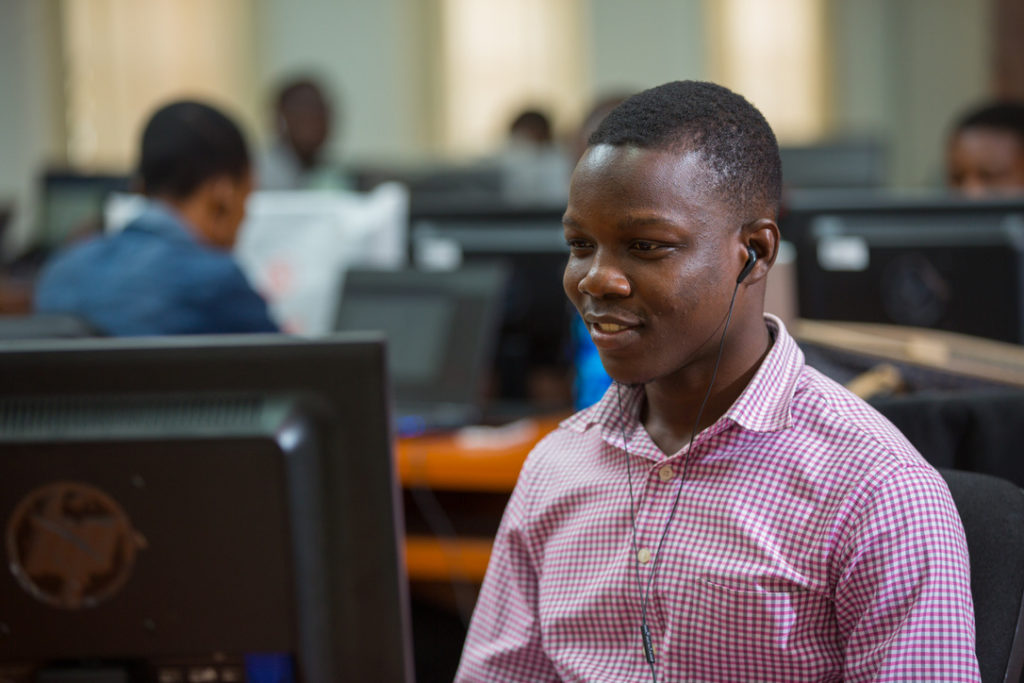 Photo: AmaliTech

Additionally, AmaliTech strives to create opportunities for women to easily join the training programme and continue their employment pathway at AmaliTech. Therefore, the establishment of female accommodation opportunities and a childcare
facility is planned. AmaliTech sees this as a first step towards creating a diverse work environment, where women feel welcomed and encouraged to pursue a career in the field of ICT.
Driving social impact is a top priority for AmaliTech as it not only supports the local community but encourages disadvantaged groups to join the Training Academy and continue their employment pathway in the ICT sector.

Creating opportunities for European businesses and ICT talent in Africa
The business model of AmaliTech is set out to deliver the much-needed digital skills to companies in Europe while simultaneously providing the talented youth in Ghana with opportunities to successfully work on an international level and connect to the global digital village.

AmaliTech can be seen as a link between Europe and Africa, providing all the necessary requisites that make it easy for companies to expand their business to Ghana – pre-qualified talent and high-quality digital services brought to you by the
next generation of technology leaders in Africa. >> www.amalitech.org
About the author: As Marketing Manager, Katrin has been establishing and managing the brands of AmaliTech since 2020. She holds a master's degree in business psychology, with extensive knowledge in marketing and advertising & media psychology. In her current role, Katrin is developing strategies and growing the brands of AmaliTech through promotional activities – creating international awareness for the great potential Africa has to offer in the digital sector.